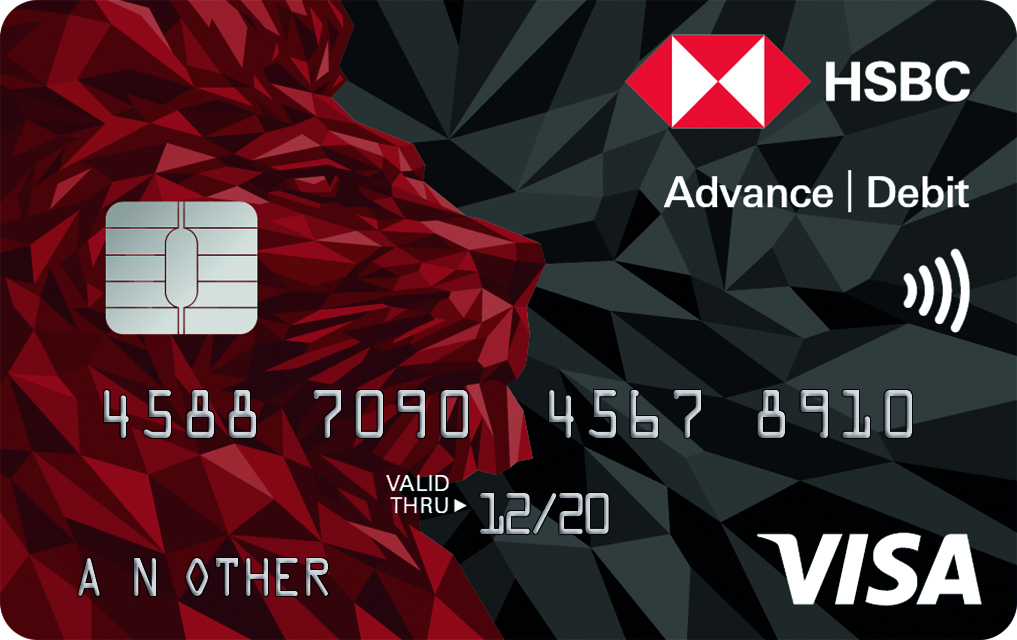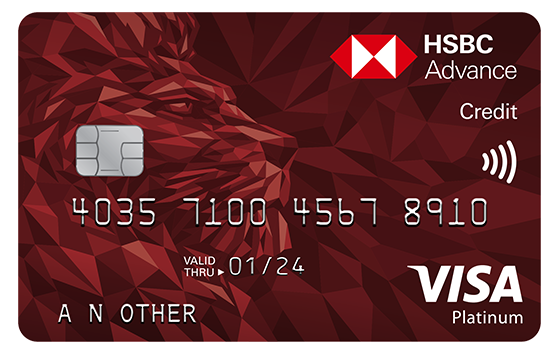 Fees applicable to credit and debit cards
HSBC Advance card fees

Card
Fee
Advance Visa Platinum Credit Card
Free
(Offered as part of a proposition)
Advance Visa International Debit Card
Free
(Offered as part of a proposition)
HSBC Advance card fees

Card
Advance Visa Platinum Credit Card
Fee
Free
(Offered as part of a proposition)
Card
Advance Visa International Debit Card
Fee
Free
(Offered as part of a proposition)
Additional cards

| Card | Debit cards | Credit cards |
| --- | --- | --- |
| First additional card | Free | Free |
| Second and subsequent cards | Free | €25.00 p.a. |
Additional cards

| | |
| --- | --- |
| Card | First additional card |
| Debit cards | Free |
| Credit cards | Free |
| Card | Second and subsequent cards |
| Debit cards | Free |
| Credit cards | €25.00 p.a. |
Cash withdrawals by means of an ATM

Withdrawal type
Debit cards
Credit cards
From HSBC Bank Malta p.l.c.
Free


0.3% on amount withdrawn

(minimum €0.60 per transaction)

From non-HSBC Bank Malta p.l.c.
(locally and abroad)
Free

1% on amount withdrawn (minimum €5.00 per transaction)
Cash withdrawals by means of an ATM

Withdrawal type
From HSBC Bank Malta p.l.c.
Debit cards
Free

Credit cards

0.3% on amount withdrawn

(minimum €0.60 per transaction)

Withdrawal type
From non-HSBC Bank Malta p.l.c.
(locally and abroad)
Debit cards
Free

Credit cards
1% on amount withdrawn (minimum €5.00 per transaction)
Over the counter cash withdrawals

Withdrawal type
Debit cards
Credit cards

From non-HSBC Bank Malta p.l.c.

(locally and abroad)

Free


1% on amount withdrawn

(minimum €5.00 per transaction)
Over the counter cash withdrawals

Withdrawal type

From non-HSBC Bank Malta p.l.c.

(locally and abroad)

Debit cards
Free

Credit cards

1% on amount withdrawn

(minimum €5.00 per transaction)
Investigation fees on disputed transactions

Outcome
Debit cards
Credit cards
Where our investigations show that the transaction was correct and/or the entry was not a result of any error by the bank/merchant

€25.00

Inclusive of VAT

€25.00

Inclusive of VAT
Investigation fees on disputed transactions

Outcome
Where our investigations show that the transaction was correct and/or the entry was not a result of any error by the bank/merchant
Debit cards

€25.00

Inclusive of VAT

Credit cards

€25.00

Inclusive of VAT
Making international payments

| Transaction type | Debit cards | Credit cards |
| --- | --- | --- |
| Transactions completed in euro | Free | Free |
| Transactions completed in a currency other than euro | 1.75% | 1.75% |
Making international payments

| | |
| --- | --- |
| Transaction type | Transactions completed in euro |
| Debit cards | Free |
| Credit cards | Free |
| Transaction type | Transactions completed in a currency other than euro |
| Debit cards | 1.75% |
| Credit cards | 1.75% |
Requesting statements

| Request type | Debit cards | Credit cards |
| --- | --- | --- |
| Statements | €1.00 per page | €1.00 per page |
Requesting statements

| | |
| --- | --- |
| Request type | Statements |
| Debit cards | €1.00 per page |
| Credit cards | €1.00 per page |
Fees applicable to credit cards only
Payment amount and due date are shown on your latest statement. If payment is delayed you will be charged as follows:
First month: €5.00
Second month and monthly thereafter until payments are regularised: €15.00
You may settle your account by setting up a monthly direct debit or through your Personal Online Banking on this website.
When the 'Closing Balance' on your statement exceeds your credit limit: €15.00
Reactivation of Credit Card Accounts
If your card has been suspended due to account not conducted according to the Cards Conditions of Use and is subsequently reactivated, a fee of €12.00 is charged upon reactivation.
Charges for Overseas emergency benefits
Cash disbursement: USD 100
Interest on Credit Card Accounts
Cash Advances refer to any cash related payments, including but not limited to ATM withdrawals, top-ups to non-HSBC accounts/cards, cash withdrawn over the counter, purchase of gaming chips, cryptocurrencies, traveller's cheques, foreign currency and transfer of funds from credit card accounts. Please note that interest is charged on the balance on your card (which would include transaction fees as well as other card related fees) from the date on which the transactions and related fees are posted to the account, until the date on which the balance is paid in full.
We do not charge interest on any purchases (excluding Cash Advances) if you repay the full amount you owe to us within the 56 days' grace period (ie if you repay the full amount you owe to us on that statement date by the next payment due date). However, if you choose to make a partial payment on the amount purchased, the remaining unpaid balance will incur interest from the date on which this transaction was booked to your account. Interest will be calculated on a daily basis and worked out on the basis of a 360-day calendar year.
The rate of interest shall be 5.75% p.a. over the Bank's Base Rate, presently 2.50% p.a., the current effective rate being 8.25% p.a., calculated on the daily debit balance. This means that assuming a credit limit of €1000 the Annual Percentage Rate 'APR' will be 8.7%.
These rates and tariffs are also in conjunction with the General Tariff.